TO ALL SITE VISITORS:   Glad you found this site.  It is however focused mainly on Massachusetts residents.  If you are from any of the states, in the list below, please click on the state's name: California,Colorado, Connecticut, District of Columbia, Idaho,   Maryland, Minnesota, New York,Rhode Island, Vermont,Washington.  This will take you away from here and redirect where you need to be. Bye! Nice having you visit…)
ON JANUARY 31st, 2022, THE MASSACHUSETTS HEALTH CONNECTOR MAILED OUT FORM 1095-A.  IT CAME IN AN ENVELOPE THAT IS LIGHT BLUE AND LOOKS LIKE THIS: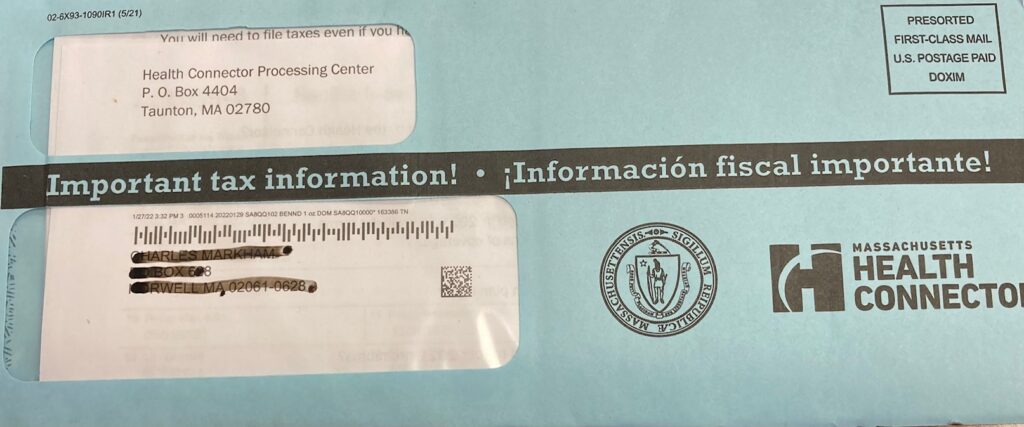 If you are from any other state (other than Massachusetts or any of the states above, then you should use Healthcare.gov (or any other state website), log into your account, and look in your "mailbox" for your tax forms.
So, for the lucky MA resident that is looking for their 1095-A.  So, if you can't find that blue envelope, you have found a place that will really tell you what to do….
Here's how to find IRS Form 1095-A on the Massachusetts Health Connector website.  First, you must be able to log into your Mass Health Connector online account.  If you don't have your user name and password.  Call the Health Connector at 1-877-623-6765.  This information is only for the state of Massachusetts.  You can get all your MA Form 1095-A's going back all years.  Other states that use healthcare.gov will find their 1095-A at www.healthcare.gov.  Note you may have received IRS  letter 12C where the IRS is looking for Form 1095-A.
IF YOU ARE TRYING TO DO THIS FROM YOUR SMART PHONE OR IPAD, PLEASE STOP!  Go find a friend or family member with a desktop (Windows or Mac) and do this from there.  You are going to need to print out the Form 1095-A.  These screen shots are from a computer–NOT YOUR SMART PHONE!  I have worked with tons of people and this just does not work on a phone.
Step 1–Sign into your MA Health Connector Account.  You need to be signed in.  IF YOU GOT THE IRS LETTER 12C LOOKING FOR FORM 1095-A , THIS MEANS YOU HAVE AN ACCOUNT.  FOR SURE.  You may need to contact customer service at the Health Connector to figure out your log in and reset your password.  The screen may no longer look like what you see below.  That's not important.  You just need to log in!
Step 2–This is the next screen you should see, (or at least the top part of it).   This is what I see when I log in.  Your screen may be different. 
Look for the menu across the screen:  "My Profile", "My Eligibility" Etc.  Click on "My Enrollments"
Step 3–This is what I see when I access "My Enrollments".  Look for the button on the right hand side that says "MAKE A PAYMENT".  If for some reason, your interface doesn't look like mine you want to find the payments section, but you must find payments from WITHIN the application not simply try to make a payment from the website's home page.   Don't worry, you will not be making a payment.  THIS IS IMPORTANT–See to the left where it says "Application Year".  Make sure it does not say "2021".  Change the drop down menu to "2020".  THEN, click "Make a Payment"
Step 4–Once you click on the "Make a Payment" button, you open up a screen that has many more options than simply making payments.  NOW, YOU'RE NEARLY DONE.  You should be feeling really good.  Do you see something that says "IN BOX?".   Underneath, "IN BOX". you should see "TAX FORMS".  If you don't see "Tax Forms" click on where it says "IN BOX" and the sub-menu should appear.  Obviously, TAX FORMS is what you've been looking for all this time.  CLICK ON THAT.
Step 5–Under Notices (also at the top) it says, "My Tax Documents", click on that:
Step 6–From here, you can print out your Form 1095-A, note that sometimes you may have more than one document for the same year.  It just works that way.
ARE YOU STILL HAVING PROBLEMS?     Sometimes it still not this easy, and your HealthConnector account just doesn't look like this.  I get it.  There's another option.  You can download and printout an Authorized Representative Designation Form here.    Print out this form.  This form is 3 pages, but you only need to fill out Section 1, Part A–just to the part where you sign.  You can designate anyone as your representative.  If you designate me (Charles), I will get your Form 1095-A for you from the Health Connector.
Finally, if you have an interesting 1095-A/Premium tax credit situation and need help with your taxes, I am probably better than most in this type of situation, but please, I am full time professional, and while I love helping others in general, this would be "on the meter" as they say.  See the rest of my website for information on my practice.  My rates are included int eh FAQ section.
FEELING GRATEFUL?   Did this information do the trick?  Was this just what you were looking for?  I am so happy.  That's great.  Go on, finish your taxes and have a great day.  However, if by some chance you'd like to let me know that you appreciate this web page, then a nice note, or a nominal PayPal contribution of $1.00 (that's it) would really make my day.
No, I'm not getting rich, but it's nice to feel appreciated, and it will motivate me to keep doing this type of thing without filling my website with all sorts of ads.   
–Charles