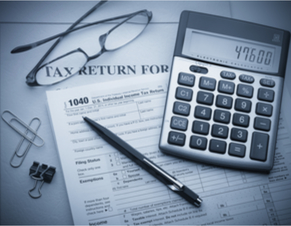 Hello! So I hear you might be in the market for someone to prepare your taxes? Well, my name is Charles Markham and it's nice to meet you. Thanks for visiting my website. One of the things I have tried to do with this website is to explain as much as I can about myself and my personality (you'll see if you spend some time here) so that you can figure out for yourself without having to make a phone call if you think I am the tax pro for you. And if you come to the conclusion that I am not, well, then this has been a very efficient use of your time, and an even more efficient use of mine.
If we were talking on the phone, one of the first things I would ask you is how did you prepare your taxes last year and why were you looking for a tax professional at this time because frankly there are really good reasons, and well, from my point of view, not so good reasons.
There are all sorts of reasons that people need a new accountant. They have relocated to the area. Maybe they've been through a divorce and don't feel comfortable using their ex-spouse's accountant. Or their former accountant has retired, passed away or worse yet has just disappeared. (We've heard of those.) Anyway, we love all of you.
First off, you're already "house trained" and know what to expect. If your prior accountant sent out an "organizer" and you have it, just use that and come to us. For the most part, I would assume my fees are comparable or somewhat better. And, my gosh, you'll see, I'm not like the others. I am a total tax geek and just love it that way. Come on in and you will sense the enthusiasm I bring to preparing your taxes.
Honestly, there's not much more to say. We're going to get along great. If I were you, I would skip to either the make an appointment page, my testimonials page.  my about us, or my FAQs page.
Are you looking to "upgrade"? Did you use H&R Block® or another storefront last year?
Okay, so maybe, last year you used good ol' Block or another one of those guys, but now want to go a little better. Okay my fees are more, but I am a lot better.  (Sorry, guys)  My rates might be just 20-25% more than H&R Block®'s rates–just look at what you paid them last year, but you are getting 25 years of tax preparation experience, an office that doesn't close up after tax season, and, well…me! Okay, so just make an appointment and come on in. Now, just like when you did your taxes with Block, you need to bring all of your tax documents. Here's a list. You need to have all of your expenses already added up when you come in. I don't want to see your receipts.
Do you feel your prior CPA or other tax accountant is just charging too much and want to save some money?
Okay, you're not going to like this.  I have found this type of prospective client interview doesn't go very well.  If you've been using a CPA firm but feel their fees have gotten too high, then I wouldn't switch to me with the prime motivation of lowering your fees.   In general, your fees will probably decrease from many CPA firms–especially if they are the larger firms with the big offices, lots of people and a nice office view, but I can't guarantee it.  Let me try to put this another way, I've been doing this for 25 years and I've reached a point where I don't want to undercut competitors to get new business in the door.
However, I can certainly appreciate that you need some expectation of what you'd be getting into so my generic expectation would be that my fees would be comparable (and yes you might save some money).  If you want to move that from an uninformed expectation to a reasonable assurance, you can send me a pdf of last year's taxes (you can redact identifying info if you want) and tell me the tax prep fees you were charged, and I will then take a look and tell you if my fees are comparable (or below) to what you have been paying.  I will also warn you if my fees are definitely higher, and you may want to look elsewhere.  While I will not quote you a specific fee, however, I will try to give you a qualitative sense of  "calibration".  I'm sure that would be that be helpful.  Once again, I am really not offering myself out to those of you who want to comparison shop tax accountants by price.  After 25+ years, it's just not where my head is at.  Price is a factor but is only one factor, and I will cooperate to the level I have just explained.  I will give you a feel for pricing.  The very few new customer spots I have each season will get taken, and in the end I will have to turn away people regardless of whatever my prices are.
Did you do your taxes yourself via TurboTax® or some other software last year?
We should talk before you make an appointment.
I have found that people who were previously doing their taxes themselves on tax software don't always make the best new clients. First off, we only have a few new client slots each year. Frankly, we want those to go to people who at least anticipate they are looking to establish an ongoing, long term relationship with a tax professional. Not people who actually like to do their taxes but maybe have a complicated year because this year they sold their inherited three-family and don't know how to handle it. There are other accounting firms that would love to help you with that problem. I go into prior do-it-yourselfers on the FAQ page.
So if you are a recovering do-it-yourselfer, please be really sure that you have abandoned this idea and now want a real professional in your life on an ongoing basis before you make an appointment.
If you want to keep going, I would suggest you next go to the FAQs page.